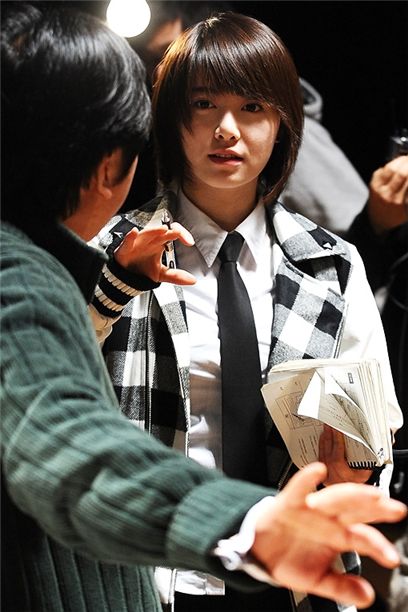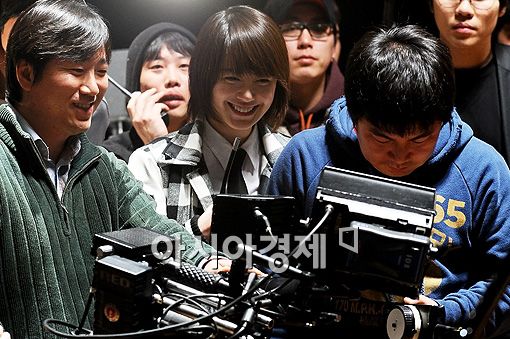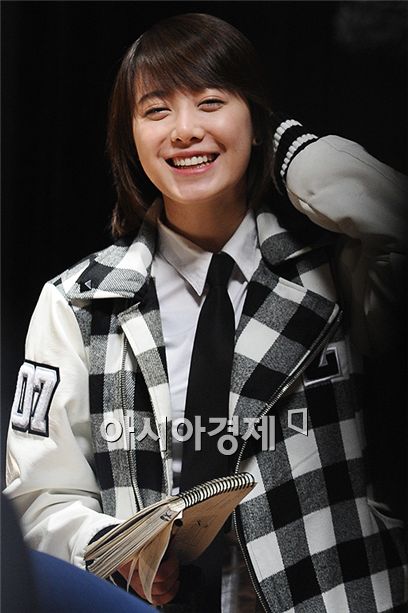 Ku Hye-sun, who is making her feature film directorial debut through her movie "Magic", finished the last day filming at the Saerasae Digital Theater of Goyang Aram Nuri Arts Center in Gyeonggi Province, South Korea on February 21, 2010.
check out her interview with Y-Star for more details:
Translation:
Narrator (N): Definition of Pal Bang Mi In (=beauty all around) fits this star really well. Actor to artist to composer-always showing newer sides of herself- GHS-ssi. Having a strong attitude of always challenging herself, this time, she has challenged herself to direct a full-length movie. Let's go to meet her at her film location of MAGIC or YO-SOOL.




@

0:27

- Last Feb.21, 2010, was the last day of filming for her first, full-length movie, YO-SOOL at KyungGiDo GoYang location.




@

0:40

-GHS: Hello to all YStar viewers. This is GHS. Glad to be here.




@

0:46

N-She appears in a very comfortable clothing.




@

0:55

(left is Director of Filming Kim of movie Speed Scandal) GHS is shouting for Director Jo.(He is Director of Lighting)




@

0:58

N-holding a wireless interphone and a conti-book, she is undoubtedly a director. Due to her highly praised short film, she is now able to make a full-length film.




@

1:19

GHS-(Q is what kind of movie is it?) It is a movie about cellist. A musical movie. It is about a group of musician friends, I wanted to portray their ways of living and loving in a very different way in this movie.




@

1:44

N-Today is the last day of filming. GHS consults with the Director of Filming in great detail, (GHS says, would it be better for actor to hang it and go?) N-While taking the challenge to direct a commercial (or box-office) movie, she claims to have gained also as an actress.




@

2:04

GHS-(Q is which job-acting or directing-she prefers?) I really like both. I cannot say which is more attractive to me but I am learning a lot about acting by directing. I really like that I am able to feel and study what I did not get while acting only.




@

2:25

N-Maybe that is why she is able to very comfortably, like a friend, coach her actors on acting.




@

2:34

GHS(talking respecfully to actor)-stay down and do only the scene where you come up when I give you a signal,,,




@

2:46

GHS-(Q is what is it like to look at actors as a director?) Characters are not vey realistic. These musicians live their lives having somewhat unrealistic thoughts. But, many of my actors never played music. So, I thought I would have some difficulty explaining to the actors about the characters. However, they acted better than I expected that my worries disappeared.




@

3:16

N-GHS took over 4 roles for YO-SOOL. Of course she is the author of the script and the director. But, she also composed the music and has a supporting role in the movie. However, even the world's most invincible GHS expressed some difficulty in filming.




@

3:38

GHS-(Q is the most difficult part of making a movie?) Because our movie is a low-budget film, we had to constantly think about saving and cutting cost. I guess it is like being hungry. It is hard because we are hungry. But, aside from that, everybody helped just so much that I really did not find it diffcult.




@

4:01

N-Being such a low-budget film, her fans volunteered free service when she needed a large number of people. Today, she spoke to her fans as a director for the movie.




@

4:16

GHS (very respectfully to her fans) Right now I am going to shoot your reaction to the music. For now, I want you to just listen and enjoy the music as audience. Later we will take few shots that will require more acting from you all. Thank you very much.(The fans comply and claps for GHS.)




@

4:40

N-For her first challege, GHS has many cheering supporters. Director of King's Man, Lee Joon Ik, came to convey his encouragement. (Goo and Director Lee met through the late Rep.Jung Seung Hae).




@

4:50

Director Lee-(Q is what do you think about her directing?) Movie is a medium that cannot exist without spectators. I do not know how well and wide her movie will reach out and pull in the public's sentiment and understanding. However, once that course has been passed through, it is a birth of a new director.




@

5:05

N-I get the feeling that she may have a hit commercially with so much support.




@

5:15

GHS-(Q is what is you prediction about the box office?) ActualIy, have never appeared in a movie and this is my first attempt at making a full-length film. Although I have only appeared in dramas and know of percent ratings, however, I never thought about what that means in terms of actual numbers. So, I really do not know.




@

5:37

N-GHS started directing on Jan.15, 2010 her YO-SOOL and its running time is 90 minutes. The movie will open during the second half of the year through a major distributor.(CJ Ent.).




@

5:49

GHS-I hope many women come to see the movie. I originally wanted to tell a story of a male cellist. I think you will find this story of a male cellist written by a female very interesting

.
Source: asiae.co.kr, y-star.co.kr

video shared by meow13131313@YT

Translation credit: susAmerica@soompi
Please Repost with Full Credit and include our link..Thanks..^^